Growing up on a sheep farm, there are some things you can't escape learning.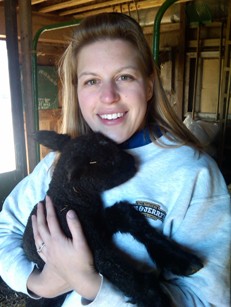 Everyone starts by learning the jobs of a good Roustie: first the clean sweeping of the shearing board between sheep, then transporting the fleece to the skirting table, the skirting itself, and of course the infamous wool tower. Then there's the job of bringing the sheep to the shearer.
As part of Ewes-N-Us 4-H Club in Dutchess County, NY, we were expected to learn to shear our own sheep and fit (groom) them for shows. As we got older, we joined the
Woodbury FFA Chapter
at Nonnewaug High School, and a requirement of the program was a Supervised Agricultural Experience Project. The SAE Project is a agricultural job or entrepreneurship that must encompass at least 200 hours per year of hands-on work; my sister and I had well over 2,000 hours in the same time period. That's a full-time job on top of high school!
Then came college, and with it, a tuition bill. Many, many shearings helped make that degree!
These days, we continue to shear as a service to the Connecticut sheep industry. Our clientele ranges from 4-Hers just getting started to those on the national show circuit, farms and zoos with educational exhibits and events, breeding operations to canine obedience training schools, with some downright expert craftsmen and women in between!
---
Here are some useful links for the sheep enthusiast!
My favorite yarn shop:
Morehouse Farm Merino
Looking for custom processing?
Still River Mill
in Eastford, CT can wash, pick, card, spin, ply, dye, and felt for you, with no minimum quantities.
Where to learn more about sheep, shearing, wool, and everything that goes along:
Sheep 101
The Grandaddy of 'em all: our hero
Godfrey Bowen, Fastest Shearer in the World
The ultimate sheep breeds directory:
Oklahoma State's Animal Science Department
You just missed these, but keep them in mind for next year!
Queens City Zoo
, Queens, NY
Northwest Park
, Windsor, CT
Central Park Zoo, Manhattan, NY

Staten Island Zoo's Shear Madness, Staten Island, NY

Granby, CT Pirro Farm, LLC Sandy Hook, CT
860.377.0053 erin@pirrofarm.com